If you are in need of
glass art in a
specific size, shape,
or color, Helen can
work to create the
perfect piece
"We were given a set of coasters as a present. We loved the design

so much that we asked Helen to create a large bowl chandelier for

over our dining table. It looks amazing and no one else has

anything like it."

— HAL AND MADELYN R
AWARD WINNING ARTISt
"I am interested in how colors mix and react
to create depth and balance. I focus on the
subtle effects light can have on the art."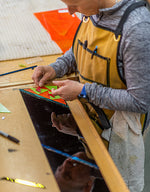 Helen's method begins by layering many different pieces of hand-cut
glass to create a bright and bold design. Her design is then fired in a 1460º
kiln in order to fuse the colorful pieces together. Often a second, third, or
fourth firing is needed before the final, one-of-a-kind piece emerges.